Monica is a graduate who loves physiotherapy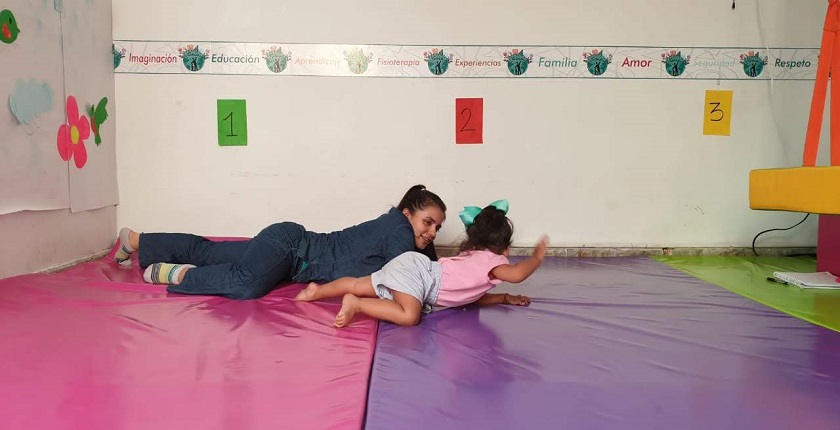 For the María Cano University Foundation, it is a great reason for joy to show that the graduates fulfill their dreams, goals and personal objectives; This is the case of the physiotherapist Mónica Posada Montoya, graduate of the year 2018 at the Cali headquarters, who shares her career and professional experience, offering quality service to the community and as an example of the work of the professionals of the Institution who leave high the profession and the name of María Cano at a national level.
«My name is Mónica Posada Montoya, I graduated in Physiotherapy from the María Cano University Foundation, Cali headquarters, in 2018, an expert in neuromotricity and psychomotricity from the University of La Rioja in Spain. From the moment I graduated I started working in a particular way with different populations, but I had always liked the child population, in search of gaining experience while doing courses, I had the opportunity to enter and create the appropriate stimulation program in a kindergarten in the city of Cali, where I learned to address the child population from the prevention of alterations in development, from this moment an interest in wanting to accompany, support and educate families about each of the development processes of children awoke in me.
From this moment on, I began to write a new program that would focus on providing children from birth to 6 years of age, being this an important stage to provide the greatest quantity and quality of experiences according to the maturation process. brain of the human being, it is here where I decide to undertake together with my sister, who has a degree in preschool education and Gaia neurodevelopment and learning center is born, a space where we create play experiences for children and their families, where they can receive support to achieve a healthy integral development, from love, respect, learning and play.
From this moment I am dedicated to studying neurodevelopment, sensory integration, assertive parenting in order to support our boys and girls in all their processes. I feel that the university, from its preventive and community approach, allowed me to open up that field of vision a bit and not only see that the techniques and tools to intervene with children were neurorehabilitation, but also if these forms were useful for children with alterations in their processes of development, because with all the more reason I was going to be able to use them and prevent alterations in children who supposedly had no possibility of presenting any situation during development, that is why I focus on encouraging the child to explore the world around him through his movement human body, motivated by what his senses perceive, by the emotional system that allows him to communicate either verbally or bodily.
As a result of everything that I have been learning in an integral way about the development of our children, I have the opportunity to train teachers of kindergartens, schools and different institutions in the city, without leaving aside that the university together with family welfare as well They allowed me the opportunity to be a tutor for a group of teachers, nurses and different areas where the community IMCI diploma was given with an emphasis on alert detection in development (identify to prevent and act in context). It has been quite a challenge to work independently, but it is very satisfying to recognize that what you know, you can teach other people, to the same families and that they already recognize specific things to act in time and prevent different alterations in our children, therefore reducing the rate of disability and the best and most gratifying thing is to support mothers, fathers and children, see their smiles, see them enjoy as a family sharing quality time that will be vital to provide the fundamental bases for the rest of the life of that human being.»
In this way, it can be seen how the work of the professionals graduated from María Cano, at a national level, directly and indirectly impacts the training of new leaders who contribute to the growth, development, progress and strengthening of the country, in this case from higher education and research.
#MásMaríaCano