Present at a Meeting of Good Practices that are an example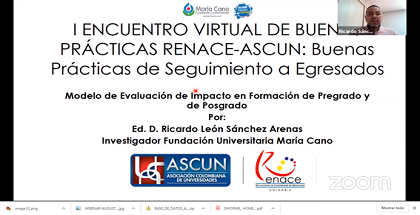 Research professor Ricardo León Sánchez Arenas participated in the Virtual Meeting of Good Practices for follow-up of graduates and employability, led by the Colombian Association of Universities – ASCUN, between August 4 and 6, within the framework of the V International Meeting of graduates to be held in 2021. In this space, the Graduate Offices of the Higher Education Institutions of the country have the possibility to present, before their colleagues from different regions of Colombia, the good practices of accompaniment, follow-up and permanent contact with the graduates and their incorporation process to working life, as well as the contribution they provide from their different fields of action to the progress and development of the nation, especially, within the framework of the declaration of a state of sanitary emergency caused by the covid-19 pandemic.
María Cano presented the impact evaluation model in undergraduate and postgraduate training that was developed, in her doctoral thesis, by the research professor of the SUMAR group, Ricardo León Sánchez Arenas, and was selected by ASCUN and by the National Network of Graduate Communities – RENACE.
In the framework of the meeting, the professor stated that the María Cano University Foundation, has been a pioneer in the development of this study, which was applied for the first time in 2016, the results of the study, allows HEIs, the evaluation of changes in the "quality of life", "economic situation", "labor competencies, research, entrepreneurship", among others, and which are attributable to the undergraduate or postgraduate training received by the graduate in the analyzed HEI. This is a study that has been carried out, in the form of knowledge transfer, with the Colegio Mayor de Antioquia and with UNICOMFACAUCA.
In conclusion, the model is a pioneering, methodological and scientific contribution to the measurement of an intangible "the impact on undergraduate training", at different points in time and through validated qualitative and quantitative indicators, which makes quality visible. Training offered by Higher Education Institutions and with "Facts and Data", continuous improvement strategies can be designed to facilitate and ensure the certified quality of the institutions and their Institutional positioning, before their reference groups.
#MásMaríaCano