Public Accounting at the International Meeting of Research Seedbeds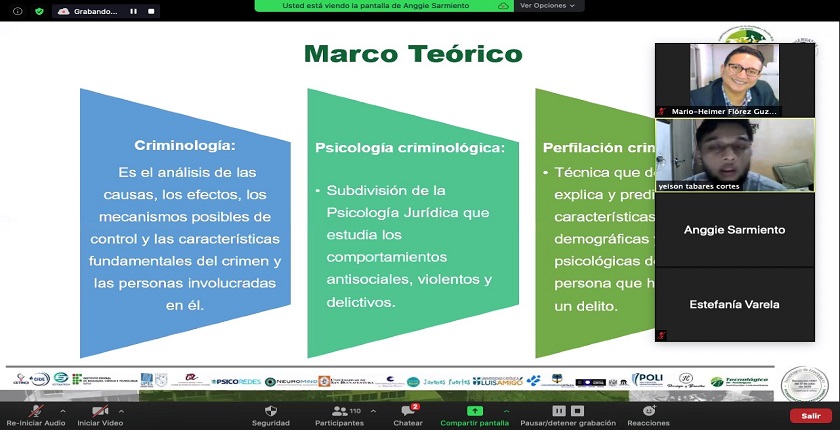 Within the framework of the I International Congress of Psychoactuality – CIP held from November 18 to 20, 2020, whose emblem was "An Ibero-American vision of the Realities and Challenges of Society", the International Meeting of Research Seedbeds was held, where They brought together students from the Tecnológico de Antioquia, UNAM de México, the Higher School of Criminology, the Remington University Corporation and of course from the María Cano University Foundation, which had a significant representation with a total of six students belonging to the SUMANDO Y COUNANDO research hotbed of the Faculty of Business Sciences.
The students of the María Cano University Foundation spoke on current issues that constitute the challenges of the 21st century for Public Accountants both in practice and in training. The topics discussed revolved around new technologies, the 4.0 revolution, the accounting culture, electronic invoicing, tax evasion, formality and informality of businesses in the city of Medellín, forensic auditing and criminality. Likewise, one of the moderators of the space was PhD Pr. Mario Heimer Flórez Guzmán, member of the SUMAR Research Group of María Cano.
Now, another group of five students will be presented at the I Multidisciplinary Meeting of Scientific Research "Challenges and Challenges of Forensic and Management Sciences" that will take place on December 1, 2020 and which is organized by the Network Transnational VIDOCQ in cooperation with different universities and international research centers. The students who participated in the event were: Mariana Rodríguez Monsalve, Erika Álvarez Bolívar, Meily Alejandra Rivera Berrio, Valentina Restrepo Londoño, Dubán Gómez Cataño and Gladys Argeny Murillo Vergara.
#MásMaríaCano