Social impact in Valle del Cauca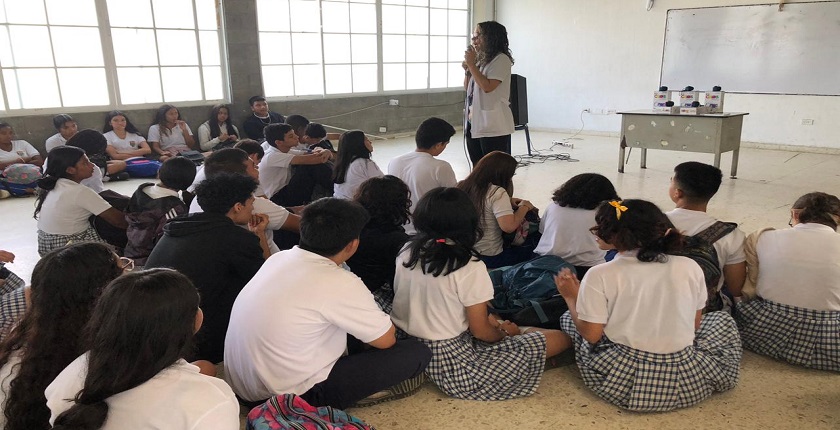 The María Cano University Foundation Cali headquarters continues to strengthen its presence and impact in the territories of Valle del Cauca, from the social projection it contributes to the training strategies of basic secondary education, on this occasion the university community was present in the educational institutions of the Jamundí municipality, where he leads the socialization and attention activity called: «Recognition and practice in basic cardiopulmonary resuscitation maneuvers and vital signs», a work that was aimed at tenth and eleventh grade students, at the Rosalía Educational Institution Mafla, and that, from now on, will continue to be carried out in fifteen other official institutions of Jamundí, with the purpose of generating knowledge in the student community for the recognition of vital signs and their alterations.
This activity allowed a broader vision when performing cardiopulmonary resuscitation – CPR, managed to check the breathing status of the participants, while facilitating actions such as seeing, hearing and feeling the chest, listening to respiratory sounds, as well as feeling the air on the cheek It was also possible to check the pulse, hold the injured person's forehead with one hand and with the other use the index and middle fingers at neck level over the carotid artery, management and the importance of how to apply them. A practical approach to the skills acquired, not only by the general public, but also reinforced in our academic programs at the Faculty of Health Sciences.
In this way, the University Foundation continues to accompany young people in different areas of Colombia to strengthen their knowledge and encourage them to have a greater mastery of strengths that allow them to be prepared to attend emergencies and contribute to the well-being of the community. Social responsibility for the benefit of students and people who will be impacted by the knowledge acquired.
#MásMaríaCano