The importance of entrepreneurship and the economic reactivation of culture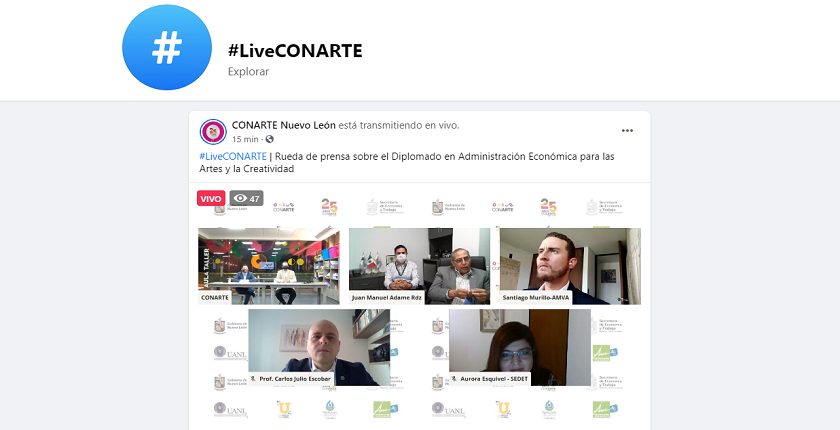 The María Cano University Foundation participated in the press conference to socialize the Diploma in Economic Administration for Arts and Creativity led by CONARTE Nuevo León México and the Valle de Aburrá Metropolitan Area, where the Institution is part of the academic focus. The general objective of the diploma is to strengthen the professionalization of creative and cultural companies in Mexico and Colombia by offering tools that allow them to develop skills in business models, administration and communication to improve their competitive performance in the immediate future framed by the covid-19 crisis. .
The academic activity, which is led from Colombia and Mexico, seeks to reflect on the concepts of culture and creative economy, which is considered a strategic growth sector in different countries. In Mexico, the cultural and creative sector contributes 3.2% to the national GDP according to the INEGI culture satellite account, and in Colombia, it contributes 3.4% to the national GDP.
Through this important alliance of academic participation, the Metropolitan Area of ​​the Aburrá Valley, María Cano and CONARTE seek that the participants can design a business model for their undertaking, identify strategies for financial decision-making, and identify strategies for branding and communication for cultural and creative ventures, and reflecting on synergies, innovation and future models for cultural and creative companies.
The diploma, which starts on September 24 online, will offer content such as an introduction to culture and the creative economy, business model and management of creative projects, communication, human resources and pitching, and synergies, innovation and models of the future for the cultural and creative sector, to make a total of 100 hours.
Participants will have to go through a selection process that involves presenting documents such as registration with the country's Treasury that confirms the company as a natural person or legal entity, in the case of Mexico or natural or legal person in Colombia with at least two years of antiquity.
Present at the Presentation Activity:
The teacher Ricardo Marcos González, president of the Council for Culture and Arts of Nuevo León
Mr. Luis Escalante, director of the Adolfo Prieto School of the Council for Culture and Arts of Nuevo León.
The architect Aurora Esquivel, director of training and certification of the Ministry of Economy and Labor of Nuevo León.
Mr. Juan Manuel Adame Rodríguez, director of training and professional development.
Mr. Efrén Robledo Leal, general coordinator of permanent formation; both from the UANL Secretariat for Digital Development and Innovation.
Mr. Carlos Julio Escobar Noreña, vice-rector for outreach and social projection of the María Cano University Foundation.
Mr. Santiago Murillo, Coordinator of Creative Economy and Industry 4.0 of the Valle de Aburrá Metropolitan Area, Medellín, Colombia.
Mayores informes del diplomado en eap@conarte.org.mx
Para ver la rueda de prensa ingresa aquí
#MásMaríaCano