Work with the Social Corporation El Comité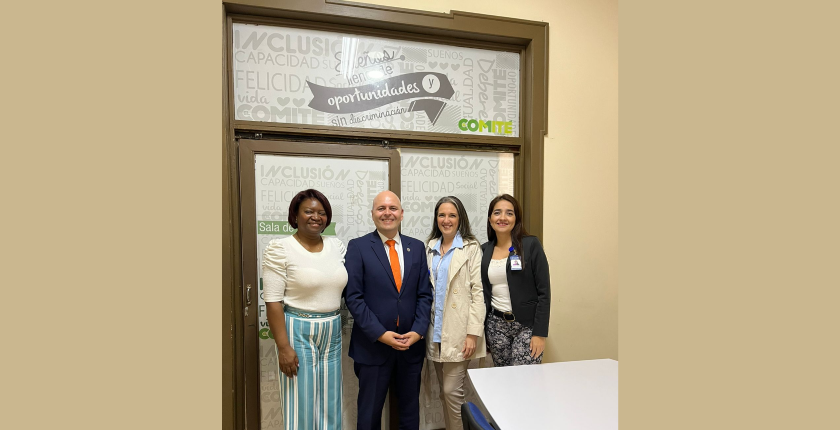 As part of the interactions of value that promotes a more interconnected María Cano University Foundation with business, social and state organizations, directors of the Institution visited the facilities of the El Comité Social Corporation, which is an organization that has been working for several decades for Accompany the transformation of the lives of people with physical and cognitive disabilities, also impacting the well-being of families and their social environment.
This institution, which for many years was called the Antioquia Rehabilitation Committee, is a specialist in the creation and implementation of rehabilitation and inclusion models to bring people to optimal levels of independence, autonomy and citizen participation.
The Vice Chancellor for Extension and Social Projection, Carlos Julio Escobar Noreña, was accompanied on the tour by the Dean of Health Sciences, Amilbia Palacios Córdoba, where they were received by the Executive Director, Sonia Gallardo and the Commercial and Marketing Deputy Director, Juliana Isabel Cadavid, to share experiences and expectations that are part of the work focuses of both institutions.
During the work meeting and institutional relations, the scope of the health services for the achievement of the independence of people, support services, training programs and social projection were exposed, topics with which both the The María Cano University Foundation and the Committee are committed to all their actions and are part of their institutional philosophies.
The Committee on its website highlights in its manifesto: «We believe in the abilities and unique talent of people with disabilities. We believe that our rehabilitation model is a tool that develops the potential of people with disabilities and facilitates their participation in the Likewise, we believe that our inclusion model contributes significantly to the construction of a country with an inclusive society, with a culture based on a focus on rights and duties aimed at consolidating modern social justice.»
Currently, María Cano has a current teaching-service agreement with which internships are carried out for students from the different academic programs.
#MásMaríaCano